Commercial Pest Control Professionals
Commercial and Industrial Pest Control Experts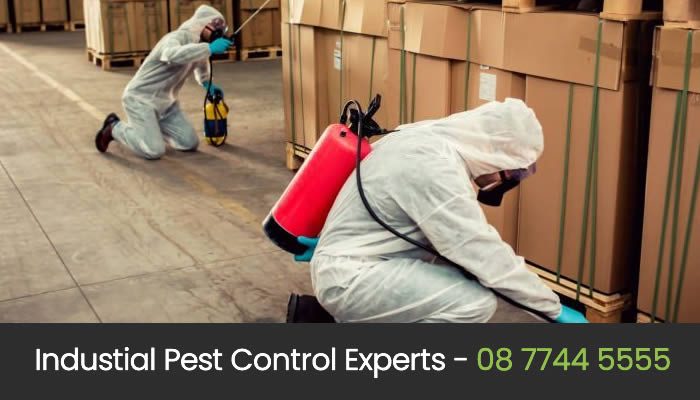 Have a pest problem in your city business? Our pest control technicians can help.
Eco Pest Control Perth offers fast, effective commercial pest control services for companies and organisations in and around Perth. Our expert technicians have decades of experience discreetly serving businesses across all sectors, including retail, hospitality, education, government and many more. We are fully insured and licenced pest controllers with the Government of Western Australia´s Department of Health.
At us, we´ll ensure your pest problem is fully eliminated.
Give us a call now 08 7744 5555.
Why Regular Control Is Important
Regular commercial pest control is critical for commercial property, including offices, schools, supermarkets, restaurants, bars and food processing plants. Rodents and others may well be small, but they can have a massive impact on your business. Not only do they carry a lot of diseases that can harm your customers and staff, but they can cause devastating financial losses. These can come from having to make repairs to your building and replacing lost inventory.
If a health inspector discovers your pest issues, you may have to temporarily close down your entities, which could hit your profits. The reputational cost of having unwanted visitors could be enormous.
We offer control to businesses of all types and sizes across the city.
Strata
Overseeing robust and effective programmes can be challenging for strata managers. While individuals are accountable for maintenance concerns inside their homes, managers are typically responsible for strata property of communal areas. If missed or unchecked, a minor rodent or other problem could soon turn into a major issue resulting in expensive and extensive damage.
Our services are the perfect solution to keeping your properties pest-free and your residents happy.
Offices
In addition to the risk to staff members, they can cause costly damage when left untreated. Among the common pest problems facing offices are cockroaches and ants attracted to places where attractants and water are plentiful. Rats can be another issue as they feed on meal and refuse and chew on electrical wires.
No matter the size of the problem at your office or suite of offices, we can solve it.
Retail Shops
Your customers want and need a comfortable shopping experience. Just imagine how they would feel if they saw a rat or roach crawling around. Consider the harm this could do to your reputation. They are a real threat to every kind of retail stores. First, they are attracted by food sources, and secondly, they may be brought into your store by items or customers. To protect your retail space, you need the services of a discreet pest controller.
Shopping Centres
Shopping centres are a pests ' paradise with food manufacturing and extensive foot traffic. They can invade boiler rooms, toilets, basements and parking facilities, among many other areas. The impact of a problem can affect revenue, profits and reputation. We will provide you with the best control methods and advice to protect your premises.
Restaurants
The need for pest-free restaurants, bars, cafés and any other sites that serves products is of the highest priority. Consequently, health and safety rules are strict. They are attracted to meal, water, warmth and several other things around eateries. Regular appearances of rodents, flies, cockroaches and other tiny invaders can destroy your premise.
A regular pest control will ensure your restaurant is pest-free and compliant with all regulations.
Schools and Universities
Universities, schools and other education facilities need to protect staff, pupils and parents. Our pest control will keep your buildings free of pests to ensure a safe learning vicinity.
Childcare
Pest can be harmful to children´s health. Preventing pest contamination with associated disease risks is key to helping you provide a safe childcare environment. Our commercial pest control is a cost-effective solutions that will keep your facilities free of any type of pest. Should an issue occur, our fast emergency service will deal with the pest problem and install measures to prevent reoccurrence.
Hotels
All it takes is a single pest to tarnish the reputation of your hotel or guesthouse. Hotels are suspect to many pest invasions, including bed bugs, rats, spiders and cockroaches. The last thing you want is a bad review online from a guest who suffered from bed bug bites or saw a rat scurrying from the kitchen. Fortunately, you can take control of the situation by engaging the services of a commercial pest control company.
Government
Government and official buildings have to maintain public trust. Whether it's a courthouse, post office, or large local authority building, keeping a pest-free environment is essential. However, with large volumes of people in and out of government buildings daily, pest problems are inevitable. This can lead to operations shutting down. However, working with a company can prevent this from happening.
Properties We Manage
Commercial and Industrial Buildings
Restaurants and Cafes
Hotels and Motels
Food Service Industry
Primary Schools
High Schools
Universities and Libraries
Hospital and Aged Care Facilities
Day Care Centres
Retail Shopping Centres
Warehouses and Factories
Apartment Buildings
Body Corporate and Real Estate
We Treat The Following
Rats and Mice
German Cockroaches, American Cockroaches and Australian Cockroaches
All Ant species
Fleas and Ticks
Flying Insects
Beetles and Moths
Weevils
Bedbugs For Hotels and Motels
Web Spinning Spiders
Silverfish
Termite Infestations
Bees and wasps
Birds
Centipedes
Our Competitive Edge
QBCC Licensed
Food Safe Compliant
Focus on Customer Satisfaction
Control Pest Infestations Efficiently
Budget-Friendly Services with Additional Pest Treatments
Top-Caliber Service from Professionals
Commercial Pest Management Service Reporting
Committed to Providing Quality Service
100% Satisfaction Guarantee
12 Month Warranty
Great Customer Service
Affordable Price
What We Offer
Detailed Inspection of Insects and Pests
Customised Termite Management Programs
Thermal Fogging
Treatment of Established Buildings and Warehouses
Complete Yard Control
Termite Barriers by Termidor
Termite Baiting by Sentricon
Our Service Areas
Perth CBD and Inner Suburbs
Perth North and South
East and West Suburbs
FAQs
What kind of service does your company provide?
We offer a complete pest management solution for commercial properties. Our services control and prevent pest infestations.
Why should I choose your company?
As a licensed and insured pest exterminator service, we are an excellent choice for pest control.
How can you help my business avoid regulatory fines?
By keeping your entity pest-free and following all regulations, our techniques help premises avoid regulatory fines.
Talk To Us
We understand the nuances and needs of all commercial clients and can remove just about any pest you can think of.
Want to know more? Give our team a call today.
Book now and talk to an expert.