Termite Reticulation System
Install and Refilling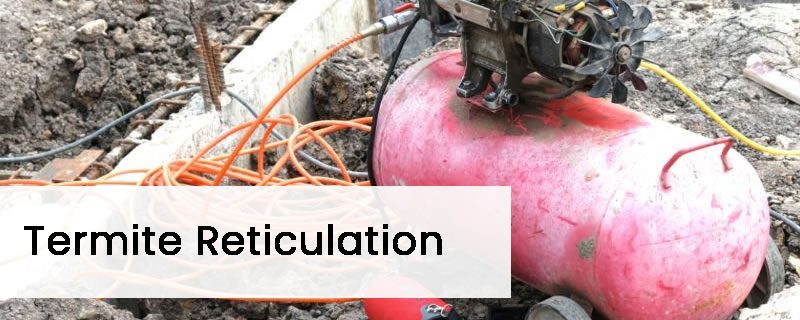 With a termite reticulation system in place, you can sleep easy knowing that your home is protected from the wood-destroying insects. A termite reticulation system is an innovative way to provide protection for a house from these pesky critters; pipes are strategically placed under the infrastructure or around its perimeter, delivering termiticide that adheres with Australian Standard AS 3660. These tubes are specially manufactured for this purpose and are embedded with emitters that distribute the chemical at measured rates throughout the entire system.
Reticulation systems are designed as effective termite protection against future termite attack that would otherwise happen with the insects entering from outside or under your surroundings. The chemical solution is pumped into the tube under pressure and saturates the surrounding soil creating a chemically treated zone that keeps the termite activity at bay.
Reticulation systems provide continuous termite protection. And when its levels are low, they´re easily replenished. Your pest control technician will pump the insecticide into junction boxes (refilling stations) that are typically located above ground.
Installing A Termite Reticulation Systems
Installation involves laying flexible, continuously perforated rubberised membrane tubes, typically along the internal periphery of the building and the centre of the flooring. To ensure the system is installed correctly and continually functions at peak performance, it's advisable to engage the services of a reputable controller such as Eco Pest Control Perth.
Termite reticulation systems are usually installed during the construction of a property. The series of pipes are laid before pouring the foundation slabs. According to Australian Standards, if you're adding an extension to your property, you must install a refillable chemical termite barrier between the old foundation and the new one.
Refilling Your Termite Reticulation System
All reticulation systems require a specialty insecticide to be properly protected; this must not only have approval from the manufacturer, but also should be registered specifically for that use. Professional pest controllers are best-suited to refill these junction boxes and provide complete protection by utilizing specialised high-powered pumps during their injection process.
The junction boxes are located in concealed places, often alongside the outer walls. Depending on the shelf-life of the chemical and the environment around a property, individual termite reticulation systems should be refilled every three to eight years.
Termite Reticulation Systems Benefits
There are several advantages of having a reticulation system installed on your property. They include:
Occupants are not exposed to any insecticides.
There's no need to drill holes into the floor to inject the solution.
The termiticide is easily replenished.
Provides long lasting protection against termite infestation.
There are no stains or discolouration in the house.
Precise underground pipe emitters ensure that hazardous chemicals are evenly distributed, mitigating dangers and promoting safety.
The termiticide is evenly distributed under the floor.
Using perforated pipes means there's no chance of them becoming blocked with debris or clay that would render them ineffective many times.
Reticulation systems come with a 20 yrs warranty.
Provides peace of mind knowing termites risks are gone
Services
Reliable Termite Reticulation System
Termidor Termite Barrier Treatment
Monitored Termite Baiting
Termite and Pest Inspections
Residential Pest Control Company
Commercial Pest Management
Regular Termite Inspections
Why Choose Us
Termite Control Professionals
Reticulation Specialists
WA Licensed
Locally Owned
100% Customer Satisfaction Guarantee
Friendly Customer Service
Termidor Accredited Applicators
Free Quotes & Advice
$20,000,000 Public Liability Insurance
Fully Licensed Termite Pest Technicians
Experienced and Reliable
Service Areas
Perth CBD
Inner Suburbs
Perth Southside
East Suburbs
West Suburbs
Perth Northside
Contact Us
Take advantage of Eco Pest Control Perth's free estimate for an anti termite reticulation system, and safeguard your new property or extension from the damage caused by these pests.
Talk to our friendly experts today on 08 7744 5555 to learn how we can help protect one of your most valuable assets.