Termidor – The Perth Homeowners Choice
Your Local Trusted Termidor Applicators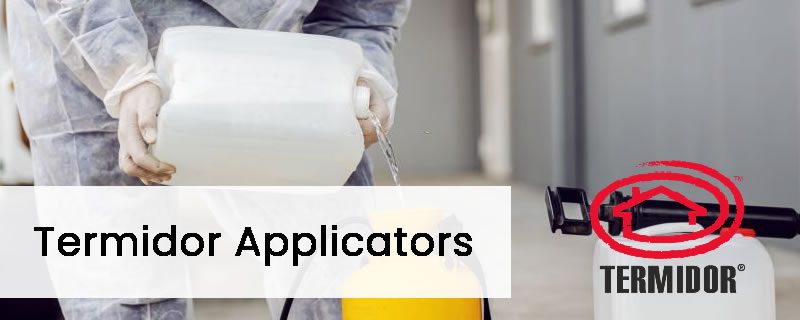 We use Termidor or Termidor High Efficiency, two highly effective termiticides and insecticides for termite control and protection when constructing termite chemical barriers. Termidor products are the perfect treatments for active termite infestations and are backed by the maker´s $2 million warranty.
Termidor HE (High-Efficiency Termiticide) is an advanced formulation that spreads further through the soil than older treatments, thereby creating a more extensive protective zone that termites can´t avoid. According to BASF, Termidor HE´s manufacturers, the termiticide achieves 100% control in three months or less.
How Do Termidor and Termidor HE Work?
Most termiticides are repellents; they keep insects away from a treated area rather than killing them. Termidor works a little differently. It is non-repellent, so the insects can´t detect it. Since they´re unaware of its presence, they´ll freely enter a treated area which is precisely what you want them to do.
Termidor is lethal to termites, but it doesn´t kill them straight away. Instead, when one of the destructive pests comes into contact with the chemical, it becomes a carrier, transferring Termidor to other termites. It does this by:
Passive transfer (contact between individual termites)
Active transfer (for example, through mutual grooming and cannibalism)
Termites are very social creatures, so the insecticide spreads easily from one termite to another, just like a virus would. This is known as the Transfer Effect.
Accredited Termidor Applicators
For Termidor to work, it has to be installed correctly. We install Termidor following Australian Standards AS3660.2., which govern termite management. We are also one of the few pest control companies in Perth to be accredited Termidor & Termidor HE applicators.
The Termidor $2 Million Warranty
Termidor is backed by a $2 million warranty covering your home for structural damage up to $2 million. This means that should the worse happen and termite damage occurs following treatment, you´ll be protected. To be eligible for the cover, the treatment must be applied by a Termidor accredited pest controller. Moreover, homeowners have to commit to annual termite inspections.
To ensure maximum effectiveness and to be eligible for the $2 million warranty, don´t attempt to apply the termiticide yourself. Contact licenced pest control technicians such as the expert team at Eco Pest Control.
Key Facts About Termidor
Termidor´s active ingredient is fipronil, a broad-spectrum insecticide that disrupts insect central nervous systems.
Works in all soil types and climates and against all species of termites.
Remains in the soil once it is applied. It doesn´t leach to other areas, even in places with lots of rainfall.
The chemical is slow-acting, allowing exposed insects to pass it through the colony.
Termidor lasts for eight years under normal conditions.
Termidor is odourless and also effective against other wood-destroying pests such as carpenter ants.
Has been safely used in and around millions of homes, including those where young children and pets are present.
Why Choose Us
Licensed Termite Control Professionals
Reticulation Specialists
AEPMA Member
Experienced and Reliable
Termidor Accredited Applicators
Competitive Pricing
Customer Satisfaction Guaranteed
Free Quotes & Friendly Customer Service
20 Million Public Liability Insurance
Locally Owned
Service Areas
Perth CBD and Inner Suburbs
Perth North and South
East and West Suburbs
Contact Us
Experience the highest standard of termite control with Eco Pest Control Perth and their accredited technicians. Utilizing Termidor, a leading industry product, you can rest assured that your home or business is secure from infestation like never before – all at an affordable rate. For more information about our services, call us today for a free quote on 08 7744 5555!