Termite Inspection
Professional Termite Inspectors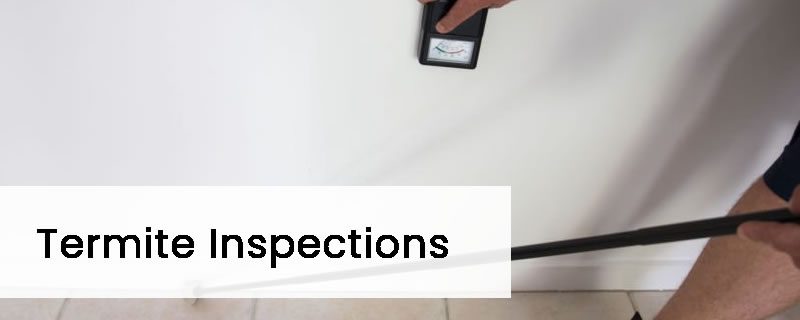 Do you need a accurate termite inspection for your property? We are here to help you. Eco Pest Control Perth provides licensed inspectors to perform inspections for all property types.
A termite infestation can compromise the structural integrity of your home without you realising it. These destructive pests can chew through thousands of dollars' worth of wood rot, hidden from view. That's why it's essential to get a professional termite inspection done by a licenced pest control technician to keep your property safe from these pests.
The main reason to get an inspection is to avoid expensive repair bills. In Australia, insurance companies do not cover the costs of termite damage because it is regarded as a foreseeable and preventable problem.
A thorough and well-executed inspection of your Perth city home or business can save you a lot of money by detecting a problem before it becomes a significant issue.
Give us a call now 08 7744 5555.
What Is A Termite Inspection?
It is exactly what it sounds like – an investigation to see whether they are currently present in your home or your business premises. As a premier pest control company in the city of Perth and surrounding areas, we conduct inspections in accordance with Australian Standards AS 3660.2-2000.
This rigorous national standard code of practice establishes and recommends industry best practices for the management of termites in and around properties. It advises residents to have their homes inspected for the presence of termite attack at least once every twelve months.
When you need annual termite inspection, you need a company you can trust, and we have got you covered.
Areas We Inspect
Our comprehensive termite inspections determine if there is any evidence of the wood-destroying insects inside or outside your home. Signs that your property could be under attack include discarded wings, termite droppings, peeling paint, small holes in walls, mud tunnels and moisture that promotes termite activity.
Interior areas we inspect: Internal walls, ceilings, skylights, timber cabinets, floors, ventilation, roof voids, architraves, basement areas, door jambs and more.
Exterior areas we inspect: Soil, garden beds, landscaping, roofing battens, beams and trusses, down piping and gutters, dead trees, stumps, fence posts and more.
Tools We Use
To discover them and their activity, our experts use a variety of essential tools.
Moisture meters – help the inspector locate moisture in various materials that could be an indicator of termite presence.
Thermal imaging camera – infrared technology that detects heat signatures from invaders, allowing inspectors to ´see´ behind walls and posts.
Termite tapper – a simple telescopic-looking piece of equipment that's run along skirting boards and other wooden structures. Changes in tone may be a sign of termite-related timber damage.
Torch – a high-powered torch to shed light on the darkest corners of attics, basements and other areas.
Termatrac – a non-invasive termite detection device that encompasses an advanced moisture testing sensor, detection radar and remote thermal sensor.
What Happens If We Find Termites?
If we discover evidence of activity during a termite inspection, we'll ascertain the extent of the infestation then provide you with recommendations about the next steps to take. This can include live treatments such as installing chemical termite barriers and baiting systems. We will also give you a free, no-obligation quote for our services.
Our Protection Services
We tailor our termite treatment services to your needs. They are designed to eliminate the bugs and prevent fresh attacks from occurring.
Chemical Termite Barriers
One of the best ways to get rid of a live infestation and prevent future invasions is with a chemical termite barrier, a subterranean pest control solution that is active for up to eight years. With this pest control service solution, we'll dig a trench around your property and create a chemically treated zone by filling it with Termidor. This is a low-toxicity pesticide that targets and kills pests and prevents structural damage.
After exposure to the toxin, it is said to be infected. It does not die straight away. Instead, it unwittingly carries the termiticide back to its colony, spreading it to other termites through shared grooming and feeding. This has the effect of wiping out an entire colony in a short period of time. Being a low-toxicity pesticide, Termidor is powerful enough to affect them but not enough to cause any harm to wildlife.
Among the other powerful tools in our arsenal to deal with infestations in the city are baiting systems. These are cylindrical devices with lockable caps that are placed in the ground at regular intervals around a property. Inside each one is a food source and an attractant that draws in the insects.
Our technicians will monitor the baits, and once they have attracted a large number of termites, will add an insecticide that contains cellulose. Their mistake this for food and continue eating.
When the insects return to their nest, they spread the poison by feeding it to their young and through their faecal matter or fungal decay, which is ingested by others. Eventually, the poison spreads and kills off the entire nest.
As with chemical barriers, the termiticide does not harm children or wildlife.
Frequently Asked Questions
How long does a termite inspection take?
Our inspections at us typically take between one to two hours.
How much does a pre purchase termite inspection cost?
Inspections start from just $220.
Who decides how to treat a termite infestation?
The termite pest technician will recommend the type of treatment they consider to be the most effective for your issue.
Do I get a inspection report?
Yes you do, this is part of our same day service. We'll email you the easy to read report within 2 hours of completing your inspection. The report includes previous treatment, any current activity and recommendation for future protection.
Five Essential Facts About Termites
They don't sleep, which means they can continue munching their way through your home or business premises without a break. It builds their colonies 24 hours a day.
They are pretty hygienic creatures, spending a lot of time grooming each other to prevent disease.
Termite queens have some of the longest lifespans in the inset world. They can live between 30 and 50 years.
Most of them do not have eyes. They use chemical delignification markers to find their way.
They are among the oldest insects on the planet, dating back more than 100 million years.
Why Choose Us
Termite Protection and Management Professionals
Trained and Licensed Termite Control Technicians
Experienced Termite Inspectors
WA Licensed for Chemical Termite Management
Termidor Accredited Installers
Eco Friendly Non Toxic Termite Treatments
Customer Satisfaction Guarantee
Discounted Annual Inspections
$20,000,000 Public Liability Insurance
Same Day Reports – Emailed To You
AEPMA Member
Our Services
Pre Purchase Timber Pest Inspections
Termidor Termite Barriers with 8 Year Subterranean Termite Warranty
Management including Detection, Treatment and Pest Prevention advice
Baiting
Monitoring for complete pest protection all year round
Locations Serviced
Perth CBD and Inner Suburbs
Perth North and South
East and West Suburbs
Western Australia
Request A Quote
Eco Pest Control Perth would love to protect your buildings from infestation.
Contact us today at 08 7744 5555 and be one step closer to a pest-free home environment!