Termite Control
Termite Treatment and Prevention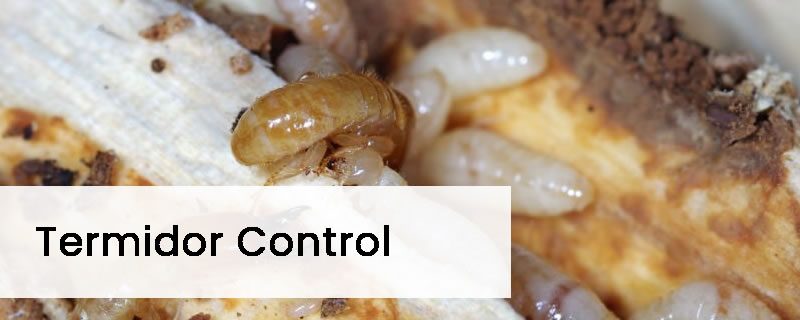 Are you worried about termites eating away at your property? If so, you´re not alone. Every year the destructive insects cause more damage to Australian buildings than fires, storms and floods combined.
At Eco Pest Control Perth, we have been successfully protecting Perth homes and businesses for more than 20 years. We are fully licenced and trained in the safe application of all types of treatments. Our pest control technicians only use effective and environmentally friendly termite control solutions and termiticides approved and registered by the Australian Pesticides and Veterinary Medicines Authority (the APVMA).
Our proven and reliable treatments provide excellent control and elimination of termite colonies.
Phone us now for a free quote.
Why Termite Treatments Are Essential
They can unleash massive destruction on your home or business premises, capable of chowing down entire structures. Approximately 180,000 homes are affected in Australia each year, with a repair bill that tops $1 billion. The destructive insects can damage the concrete floors, ceiling and foundations of your home. But they don't just go after the house; they'll also eat their way through bookcases, chairs, tables and more.
These intruders won't stop on their own, and many types of home control methods are ineffective. That is why you need professional termite control. The key benefits are:
You eliminate existing termites and prevent others from attacking your property.
The cost of termite treatments is much less than a hefty repair bill.
Termite professionals have the knowledge, experience and methods to deal with the problem successfully.
To safeguard your health. People suffering from allergies and asthma are at risk of allergic reactions to dust and particles released from termite nests.
Types of Treatments
Fortunately, when it comes to termites, you don't have to wait for extensive termite damage to occur. Timber pest inspections and termite control methods can prevent the insects from causing widespread devastation. Among the most effective chemical treatment methods available are:
Termite Inspections
A thorough investigation of a property's interior and exterior to determine whether an infestation is present and, if so, its source and extent. They can live undetected in properties for many years which is why we recommend a regular termite inspection at least annually. It's valuable peace of mind and time.
Termite Baiting Stations
In-ground and/or above-ground baiting system is placed strategically around a property. Inside each monitoring station is bait treated with doses of a slow-acting non-repellent termiticide. When they discover a bait station, they feed on the food source and carry some back to their group, where others feed on it. Ultimately, the entire colony will be destroyed.
Termite Barriers
A chemical termite barrier involves digging a small trench around your building and filling it with a termiticide to create a chemically treated zone. The liquid chemical can also be injected under your building's concrete slab. This prevents them from crossing the treated area or the external perimeter.
We use Termidor as our pesticide of choice because it is effective and comes with an eight-year warranty. When family of termites are foraging in the soil, they come in contact with the odourless chemical and unknowingly carry it back to their group on their body. Soon it spreads to other crawlers, killing them all. While toxic to termites, Termidor does not affect the environment, plants, soil microbes or earthworms.
Termite Sprays
We can spray active nests with a fast-acting termiticide that will kill all the insect occupants.
Termite Reticulation Systems
A reticulation system is a series of underground pipes positioned around a home and filled with termiticide. They are typically installed when new homes are built or during renovation projects. The pipes can easily be replenished using pumps and other special equipment.
Why Choose Us
PMT's Licensed by WA Government
Pest Management Technician Licensed by WA
$20,000,000 Public Liability
20 Years Experience
Electronic Reporting
10 Year Protection
Professional Indemnity Insurance
100% Satisfaction Guaranteed
Affordable Prices
Our Services
Annual Inspections
Physical and Chemical Barriers
Bait and Monitoring
Reticulation Systems
Cost effective Pest Control Service
Locations Serviced
Perth CBD and Inner Suburbs
Perth North and South
East and West Suburbs
Request Your Quote
Don't struggle with termite activity alone.
Speak to our pest technician of experts to find the best effective solution for your termite infestation.
Get in touch on 08 7744 5555 and start moving toward a termiteless future and prevent spending millions of dollar.